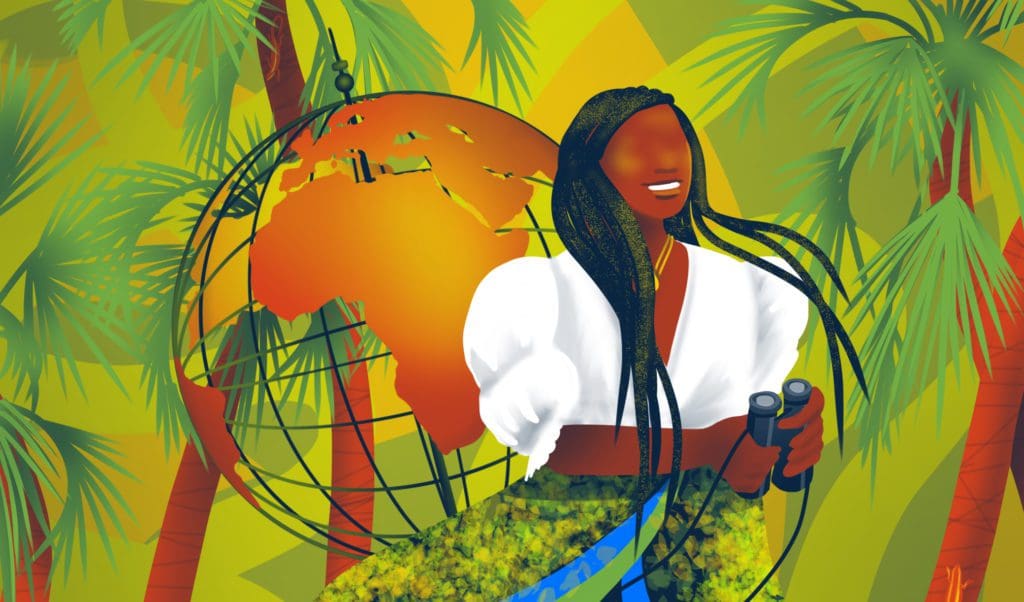 Reflections from the First forbes 30 under 30 summit in africa
This past April, the first-ever Forbes 30 Under 30 Africa Summit was hosted in Gaborone and Kasane, Botswana. In attendance were Under 30 listers from across Africa, delegates who were African entrepreneurs, and nominees from around the globe.
I am one of the Under 30 Listers from around the world invited to this event. While pursuing my doctorate in natural resources with an emphasis in wildlife conservation and management, I made the Forbes Under 30 list in 2021 under the science category for creating a popular social media game called #FindThatLizard. Essentially, I go out and take photos of lizards. However, the lizards are camouflaged. It's like Where's Waldo but with lizards. In each social post on my account (@Afro_Herper), I give information about the lizards such as what they look like, what they eat, and where they're found. I use this game to teach my 51k and 24k followers on Twitter and Instagram respectively, about lizards, conservation and social justice issues.
During its ten-year history, Forbes summits have been held in America (Flagship), Israel, Germany, and Abu Dhabi. These conferences are designed to build communities within the 30 Under 30 community, aid listers in building entrepreneurial skills and finding funding, as well as being a space to forge new endeavors. When the President of Botswana learned Forbes was looking for a location to host the Forbes Africa Summit, he threw his country in the ring. Botswana is a hub of growing entrepreneurial talent across industries, which combined with its rich history and natural beauty, made it the perfect location.
The summit opened in one of Gaborone's open-air markets and squares. The first part of this event was a private networking dinner where listers, delegates, and local politicians could meet each other. As the evening progressed, we moved from the restaurant to the square, where citizens of Gaborone also gathered for performances from local musical artists and one of Africa's biggest DJs, DJ Black. During the event, the President of Botswana, Dr. Mokgweetsi Eric Keabetswe Masisi, welcomed Forbes to Botswana.
The next day we reconvened at the Botswana Digital & Innovation Hub. We heard from speakers like Dr. Masisi and his vision for the future of Botswana, Dr. Patrice Motsepe and his inspiring story on how he became a self-made millionaire, and Elisa Majimbo, who described how her self-efficacy propelled her to stardom.
We ended the night with invitation-only dinners across Gaborone. The dinner I attended was at one of the best Chinese restaurants in the city, China Restaurant. It was hosted by Moitshepi Matsheng, a social innovator focused on designing sustainable solutions for youth development. The food was authentic and served family-style. This was the perfect setting for getting to know one another, discussing our passions and how to move forward professionally.
On day three, many of us packed our bags to head to the second destination, Kasane, which boasts the world's largest concentrations of lions and elephants. Arrival day finished off with a sunset boat cruise along the Chobe River. We saw antelopes, elephants, hippos, and even a crocodile. On this excursion, I had a lengthy conversation with His Excellency Onkokame Kitso Mokaila, the ambassador for Botswana to the United States and the former Minister of Environment, Wildlife, and Tourism and former Minister of Minerals, Energy, and Water Resources. We discussed what America could learn from Botswana about sustainability, conservation, and culture around natural resources. A perfect introduction to the topics that would be covered the next day.
On the final day, we heard from many African entrepreneurs who are working to solve the most pressing issues of today and tomorrow regarding sustainability, equity, and innovation. I enjoyed the conversations on sustainability, education, and media. After the panels finished, some of the best young designers of Southern Africa and top models in Botswana put on an unforgettable fashion show.
The summit concluded with a sunrise safari where attendees could see some of the best natural areas in Africa.
This entire summit was an unforgettable experience. I met and networked with innovators, entrepreneurs and politicians. Many of the learnings from the summit can apply directly to my work at LifeSci such as pitch writing. I learned a lot about what investors are looking for, so when we pitch to podcast or investor focused outlets, I have a deeper understanding of what will resonate with that audience. More than that, I made lifelong friends, which makes participation in this event invaluable in a world where it's about who you know.